College application timeline
(with deadlines for ~450 colleges)
The college application timeline
Navigating the college application process can be overwhelming; we wrote this post to help!
We've outlined a complete college application timeline to guide you through each semester of your junior and senior years of high school. We've structured this timeline to help check one box at a time, so you can navigate this process stress free. Whichever universities you want to apply for - we have you covered! We've gathered the college application deadlines for over 440 colleges all right here in one place. After reading, you'll have a deeper understanding of the college application process and a guide to building a compelling application that sets you on the path to a bright and promising future.
So, let's dive right in!
Spring semester of your junior year (January - May):
Outline your goals
Like with every journey you begin, setting your goals heads up gives you a clear vision and direction. Start by defining your academic and personal goals, and research potential colleges that align with them.
Meet with your counselor
Schedule a meeting with your school's college counselor to discuss your plans and get a professional perspective.
Develop a prospective list of colleges
There are several factors to consider in your research, such as location, culture, majors offered, and financial aid options.
Prepare for the AP exams
You'll need to get ready for AP exams all semester long. Check the
AP exam schedule
, then manage your time effectively to prepare for them thoroughly.
Plan your ACT/SAT dates
Make time to prepare and study for the ACT and SAT, especially if you plan to apply to schools requiring a test score. Schedule your test date with plenty of time to study and prepare.
Achievable ACT
If you need help to improve your score, Achievable has an excellent ACT prep course that uses AI to get you the score you need to get to your dream school.
Gather recommendations
Choose teachers who know you well and ask them for letters of recommendation. For more robust recommendations, provide them with a list of your achievements and relevant interactions they could include from the class or activity where they interacted with you.
Start writing your college essays
Start writing your essays early, and be prepared to make multiple rounds of revisions. Seek professional feedback from your teachers and counselors rather than just relying on your parents - they will have an objective view of your writing.
College visits
Start visiting the colleges on your list, prioritizing your top choices. Get the most out of your visits by attending information sessions, taking tours, and speaking with current students.
Start generating ideas
Think about what you'll be doing as your passion project/capstone project over the summer.
Research financial aid options and scholarships
Gather the necessary documents for the
FAFSA
and other financial aid applications.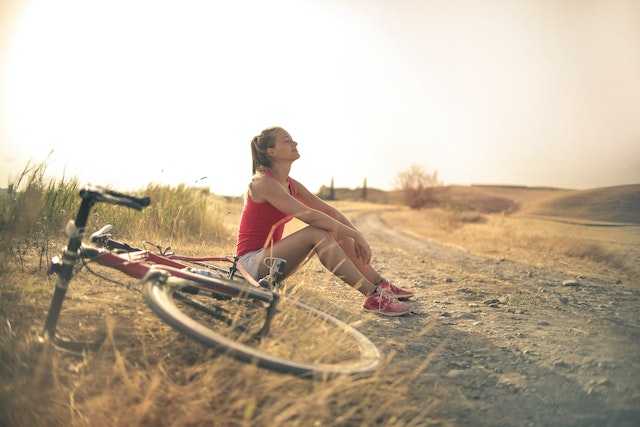 Andrea Piacquadio /
Pexels
/ "Sportive woman with bicycle resting on countryside road in sunlight" /
Pexels license
Summer break (June - August):
Here's what you can do during the summer break to stay on track:
Take your final ACT or SAT
Consider retaking them to improve your scores if necessary. Focus on studying and practicing your weakest areas in between takes.
Open all application accounts
The most common are the Common App, Coalition App, and University of California applications. Fill out your demographic information and any sections you can complete, like basic info.
Finish your essays
Complete your essays before the beginning of your senior year to ensure a solid start and avoid stress.
Complete all the work you need for your passion project/capstone project
You'll rarely have time to do more during the school year once activities start back up. Do this now if you can.
Follow up with your letter of recommendation writers
Make sure they have already submitted their letters of recommendation, or if not, politely remind them to get them on track.
Apply for Financial Aid
Complete the required financial aid applications while keeping track of deadlines. (More details on FAFSA
here
.) If you're applying for merit scholarships, get ahead of those too.
Engage in productive summer activities
Look for internships, volunteering, or academic programs. If possible, find activities that tie into your upcoming major or that relate to the interests you've written about in your essays.
Fall semester of your senior year (September - November):
Finalize your college list
Get a final college list together utilizing what you learned during your research and visits. Then, request that all standardized test scores be sent to those colleges.
Consider applying early decision
If early decision is an option any of your top desired colleges offer, you should consider it - early decision admission rates are often much higher. Just be aware that you will be legally bound to attend that college if they admit you.
Start finalizing your essays and applications
If you want to submit an early application, you'll need to be aware of the deadlines for that application. Keep an eye on calendars and ensure you're on track with your other colleges' deadlines.
Check in with recommendation letters
Deadlines should be arriving during the fall semester - make sure to check in with any unfinished letter writers at least one week before their letter is due.
For regular decision schools
Make sure to complete your supplemental essays before the end of November to give yourself plenty of time to have them reviewed and edited.
Winter break (December - January):
Finalize and submit applications
Complete your paperwork for regular decision schools.
Prepare for interviews
If interviews are required in your application process, prepare for them. Research each college you'll interview with, and practice your interview skills with a parent, teacher, counselor, or other adult confidant.
Check your application status
Review the colleges' application platform and ensure all your materials have been received and processed.
Research and apply for scholarships
There are so many scholarships for different fields, regions, backgrounds, and other things - do some research to see if any apply to you and give them a shot.
Spring semester (January - May):
Keep an eye out for admission decisions
This is around when your decisions should start arriving. Celebrate your wins, and don't let rejections or waitlist notifications discourage you!
Evaluate financial aid offers
Consult with your family to decide which college offers the best package of financial aid and overall fit for your future.
Make your final decision
It's time to decide the college you'll be attending! Submit your enrollment deposit by May 1st.
Send thank-you notes
Reach out to your teachers, letter writers, and counselors who helped you. They did a lot of hard work for you and deserve to be recognized!
Prepare for your transition to college!
Achievable ACT
If you need help to improve your score, Achievable has an excellent ACT prep course that uses AI to get you the score you need to get to your dream school.
College application deadlines for ~450 colleges
Let's get specific. Below are the college application deadlines for ~450 of the top colleges in the country. Always double-check these on the college's admissions website (links included below), as they are subject to change.
Hit your target score
Achievable is the best online ACT exam prep course: effective, personalized, and convenient. With Achievable, you'll spend less time studying and hit your target score with confidence. Questions? Call/text us at
415-831-7733
.
Get started for free